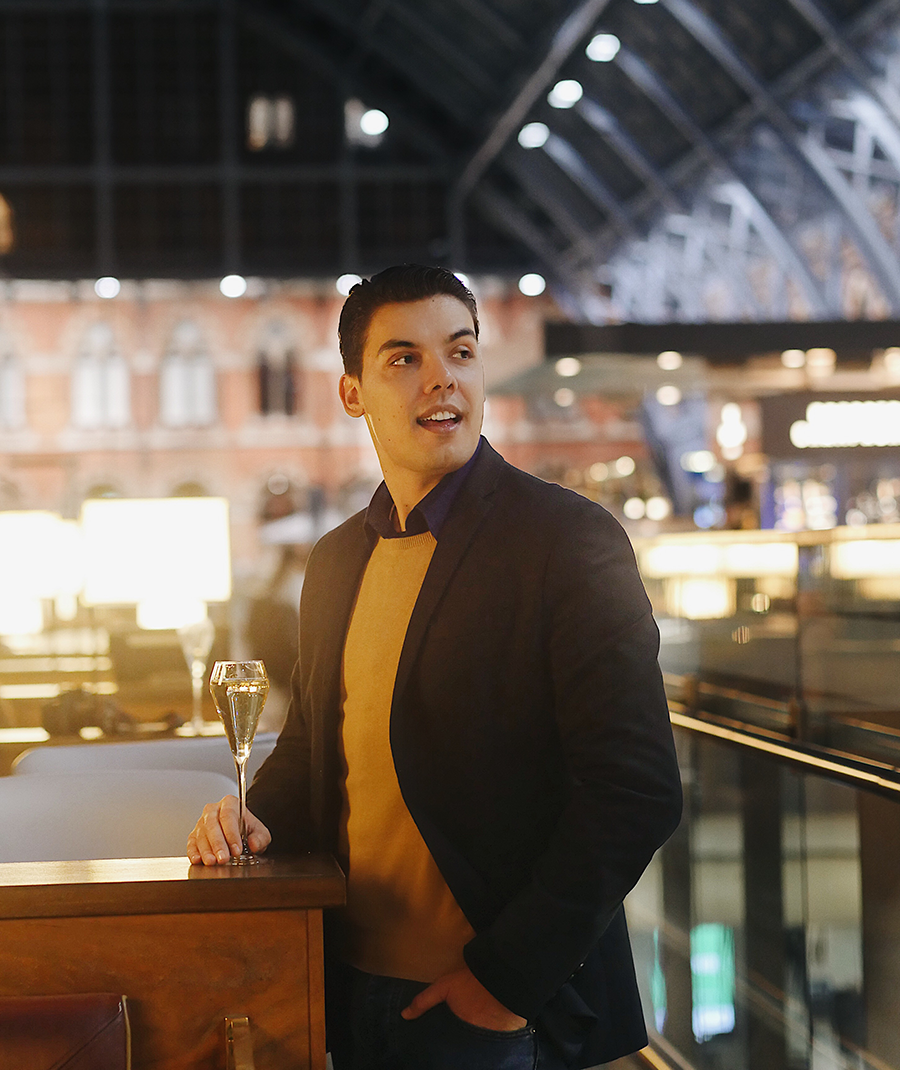 22 Mar

St Pancras Brasserie and Champagne Bar by Searcys

In celebration of St Pancras Station's 150th birthday, we have embraced both the old and the contemporary – from our elegantly revamped interior and all-new menu to the grand opening of our first ever Champagne School.

On the doorstep of Europe, St Pancras by Searcys invites you on a journey back in time. From Europe's longest Champagne bar, unwind over oysters and a Grandes Marque vintage. Behind the doors of our Brasserie opposite, renowned designer Martin Brudnizki has set the scene. Art deco details hark back to the roaring '20s. Herringbone oak floors offset the glistening gold ceilings. And classic British fare is reimagined, reinvented and served in true Searcys style.

Whether you're stopping in or passing by, St Pancras by Searcys will be a destination to remember.[/vc_column_text]

[/vc_column][/vc_row]
WHERE OLD-WORLD GLAMOUR MEETS FRESH-FACED FLAVOURS
With old station clocks on the walls, and private booths lit by vintage-inspired lighting, St Pancras Brasserie by Searcys whisks you back to the golden age of travel. While the station buzzes beneath you, this is somewhere to unwind in style, before you embark on your next adventure. From healthy options and signature dishes, to '20s classics inspired by the décor – the Brasserie at Searcys St Pancras has plenty to inspire you, whatever the occasion.
Indulge in a leisurely breakfast. Host a business meeting in stylish surrounds. Meet friends for dinner. Or for fleeting visits, choose something from our Express Menu. No matter how long you stay, a St Pancras Brasserie experience will have you feeling as though time has stood still.
Brasserie opening hours: 
Monday – Saturday: 7:00 – 22:00 (Cocktail bar open until 23:30)
Sunday: 9:00 – 19:30
SPARKLING CONVERSATIONS AND TIME-STOPPING VIEWS IN LONDON'S GRANDEST CHAMPAGNE BAR
Taking centre stage in this glorious, iconic location, St Pancras Champagne Bar by Searcys is a delight from beginning to end of what is Europe's longest Champagne bar.
Gaze across the entire station terminal or up at the impressive wrought iron and glass ceiling. Then as you settle down on an elegant banquette, Art Deco lamps bathe the space in soft pools of light, creating just the right ambience for quiet chats or lively gatherings.
At Searcys, every detail matters. Whether it's the 'Press for Champagne' button on the table that ensures your glass is always filled. Or the soft individual blankets, fan heaters and heated leather seats for every banquette – St Pancras Champagne Bar promises to keep you cosy on crisp winter evenings.
Champagne Bar opening times:
Monday to Saturday: 07:00 – 23:00
Sunday: 08:00 – 20:00