10 Sep

Mortimer House – Yoga, Pilates, Champagne & Brunch

I´ve recently attended to an exclusive morning Health & Wellness hosted by Sarah Highfield and Madeleine Karlsson at Mortimer House. What a fabulous experience! The day started with an energising Pilates class, followed by a relaxing Yoga session right after had a Nutrition Workshop. As soon as we finished, we all toss with a Champagne glass follow up with a delicious Brunch provided by Mortimer House Kitchen. They also give us away brand new luxurious vegan suede yoga mat from My♡ga.

Let me tell you a bit more about the session.
I´ve never done pilates before, but Madeleine made it super easy to follow and challenging at the same time, I felt my whole core working. She was extremely helpful making sure everyone was following the class and in the right posture.

Madeleine is the founder of Nutrition For Naughty People: Maddy is an international Health Coach & Pilates Teacher, splitting her time between New York, London & Monaco.

The session continued with a yoga session guided my Sarah Highfield.
She is the founder of Yogaraise: One of London's most sought-after yoga teachers with a formidable private client list and has taught at some of London's best studios including Form and Bodyism.

As you might know, there are many types of practices out there. This one was a Hatha relaxing yoga. This was perfect for stretching after the pilates. Sarah guidance was super helpful all the movements were easy to follow, and she was walking around the room making sure everyone was doing the right postures. The class ended up with a comfortable floor meditation. The room was filled with good energy, the way that Sarah make us breathe. Let us completely forget about with the outside work and truly connect with our selves at the moment.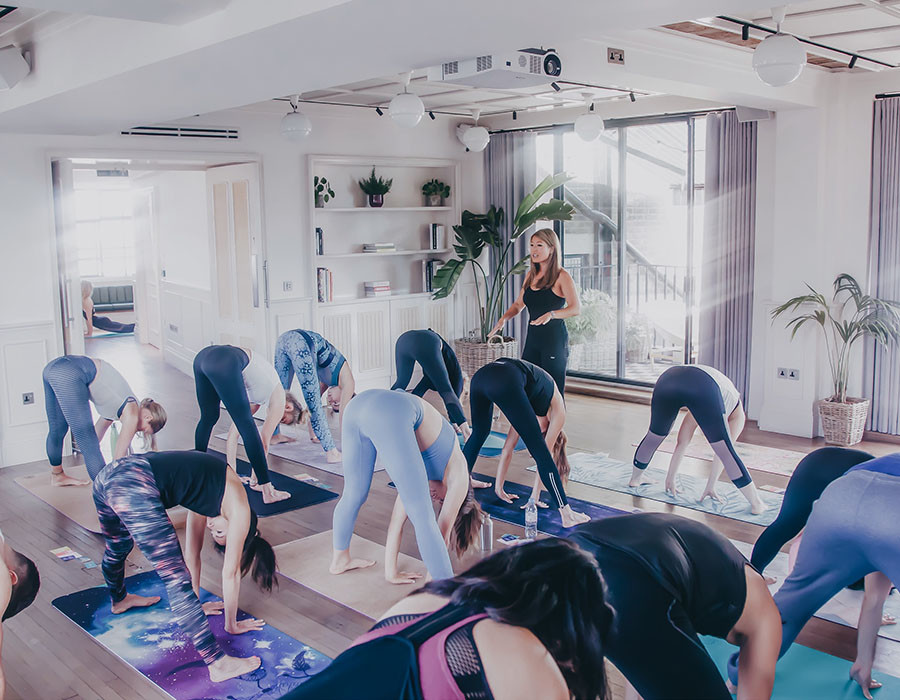 Maddy gave us a talk about nutrition.
She has worked with the very best in her industry and is an expert on creating a lifestyle which balances the sensible with the naughty.
Her blueprint is all about feeling good and being happy.
So that is exactly what her talk was about, being happy with ourselves first. She mentioned how we feel with our inner voices, and what they tell us about the food that we eat. She gave us fantastic advice on how to listen to our bodies finding the balance to enjoy a healthy diet that our bodies need.
As soon as we finished, there was a champagne reception sponsored by Champagne Regi; this is where i got a chance to personally meet the group and greet the teachers; everyone was extremely friendly, the room had a great vibe. Follow up we had the most delicious all-you-can-eat Brunch provided by Mortimer House Kitchen, fabulous Mediterranean cuisine selection with all the best you can imagine.
I want to congratulate to Sarah and Maddy for hosting such a fantastic event, i truly enjoyed, and i highly recommend. Thank you very much
Photos were taken by @evelinelondon_. Though this event I´ll be working with her soon in a very exited project. More to come…